Sale!
Acuvue Oasys for Astigmatism (6 toric lenses)
Read Product Description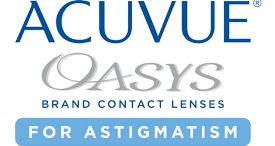 6 Bi-weekly Toric Contact Lenses
Acuvue Oasys for Astigmatism are silicone hydrogel contact lenses. They are the latest generation of 2 weekly disposable contact lenses by the market's leading manufacturer in the field - 
Johnson & Johnson
. They incorporate the next generation of Hydraclear Plus. These lenses are ideal for 
people with sensitive eyes
 and for those who are involved in daily activities where their eyes feel uncomfortable or irritated. The mentioned exceptional 
oxygen permeability
 also 
allows for extended wear (7 days and 6 nights)
. However, it is necessary to consult the extended wear with your eye doctor or 
optometrist
. All Acuvue brand of contact lenses offer the highest level of UV protection. A 2-week contact lens, where you take the lens out each night.
Contact lenses for astigmatism, a condition where objects are blurry at all distances, often accompanied by long or short sightedness.
Bi-weekly contact lenses
Superior UV protection
Hydraclear Plus technology minimizes dryness
Box of 6 Contact Lenses.
---
Order Acuvue Oasys for Astigmatism contacts today and benefit from:
Our online chat agents are here to help you from Monday to Friday 8:00-17:00.
The lowest price in last 30 days: €49.79.
(inc. VAT)
inc. Free Shipping to selected countries
Dispatch Estimate:
7
Day
Days
Quantity Discounts
Enjoy the quantity discount even on different powers of the same brand.
How To Read Your Prescription
How To Read Your Prescription
Find the following data on your contact lens box or refer to your prescription.
Power
Description
Strength of Lenses – can be either a (-) or a (+) value.
Base Curve
Description
A value between 8.0 and 9.0 and denotes how rounded the lens is.
Diameter
Description
A value between 13.8 and 14.5 which is product specific and gives the diameter of the lens.
Cylinder
Description
Correction of the lenses for astigmatism.
Axis
Description
A value from 0 to 180 which indicates the degree at which the lens provides the astigmatic correction.
Addition
Description
Expressed as Low, Medium or High.
Product Specifications
Product Specifications
Product Category:
Product Subcategory:
Product Manufacturer:
Product Brand: Acuvue
Product Power:
Product Base Curve:
Product Diameter:
Product Cylinder:
Product Axis: 10
Product Material:
Product Water Content:
Product Packaging:
Product Lens Type:
What Our Customers Are Saying